View Cart
"Back To Front" has been added to your cart.
Colour Nativity
Contemporary nativity set
In stock
Continuing his research into the meaning and use of colour in objects, Sebastian Bergne has produced a contemporary nativity set. Each of the characters is a minimal wooden block that is recognisable by it's colour, proportion and place in the composition. The project makes use of our learned experience from exposure to thousands of nativity images, toys and christmas cards over the years.
In 2013 a large scale version of the nativity was commissioned for the Chapel of the Royal Naval College in Greenwich.
In 2017 the Colour Nativity was included in the permanent collection of the museum, Les Arts Décoratifs, Paris.
Manufactured in painted beech wood. Dimensions: 26cm x 13.5cm x 3.5cm
The third edition (250) of the Colour Nativity is now in stock.
This Edition is designed and produced by Sebastian Bergne Ltd.
---
All products sold through this website have been designed by Sebastian Bergne. Some are manufactured by Sebastian Bergne Ltd. and are sold exclusively here as an Edition and some are manufactured by independent design manufacturers and are stocked here much like other retailers.
---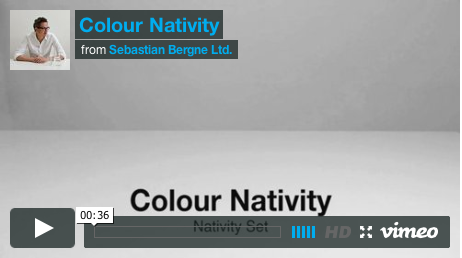 Need Help? Contact Us Leave Feedback
Tags: Bergne, christmas, christmass, collector, color, colour, contemporary, creche, Crèche de Noël, design, Gift, minimal, nativity, noel, rare, scene, Sebastian Bergne, Stationery, unique.
Related Products
£

98.00

Free

£

37.00

Free

£

7.00

£

78.00

£

40.00

£

12.00

£

2.50

£

30.00

£

22.00